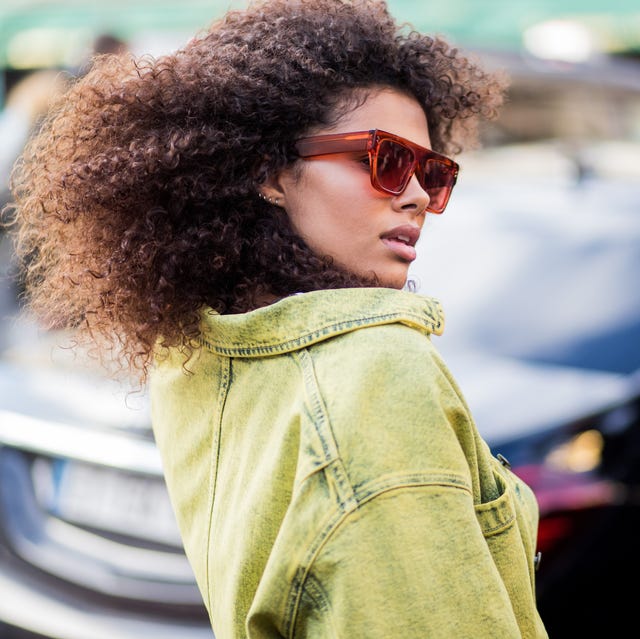 Christian Vierig
It can feel completely devastating to realize your hair is thinning or falling out. Too many of us experience this, and it can happen to anyone–for a myriad of reasons. Unfortunately, there can be a lot of shame around the issue, making it harder to get information about how to treat hair loss. If you want to re-grow patchy sections, add density to thin hair, or you simply want to take preventative measures, hair growth shampoos can actually help.
Depending on what's causing your hair loss, consulting with a doctor, trichologist, or dermatologist is always a good first step. Here, we've consulted some of the best minds to find out which are the best shampoos that can improve hair growth and density. Ahead, shop 20 of the best hair growth shampoos available.
Advertisement – Continue Reading Below
1
Best For Hair Growth
Biotin Shampoo for Hair Growth B-Complex Formula
2
Best For Hair Loss
Growth Stimulating & Anti Hair Loss Shampoo
3
Best Hair Growth Set
Strengthen, Grow & Restore Shampoo and Conditioner Set
4
Best Hair Growth System
System 4 Hair Care Kit
5
Best For Scalp Care
Deep Scalp Hair Therapy and Follicle Stimulation Tonic
6
Best For No-Breakage
Scalp Stimulating Shampoo
7
Best For Everyday Use
Original Gold Label Anti-Hair Thinning Shampoo
8
Best For Damaged Hair
Resistance Length Strengthening Shampoo
9
Best For Growing New Hair
Hair Surge Caffeine Hair Recovery Stimulating Shampoo
10
Best For Thin Hair
Advanced Full Density Thickening Shampoo
11
Best For Cell Turnover
Argan Stem Cell Age Defying Shampoo
12
Best Biotin Shampoo
Biotin Shampoo and Treatment Conditioner
13
Best For Dry Hair
NaturalTech Nourishing Shampoo
14
Best For Curly Hair
Goddess Fortifying Shampoo
15
Best Volumizing Shampoo
Blossom & Bloom Ginseng + Biotin Volumizing Shampoo
16
Best For Dandruff
Anti-Dandruff Shampoo
17
Best For Quick Results
F.A.S.T Fortified Amino Scalp Therapy Shampoo & Conditioner
18
Best For Natural Hair
Renewing Shampoo
19
Best Drugstore Pick
Thick & Full Biotin & Collagen Shampoo
20
Best For Sensitive Scalps
Moisturize & Grow Aloe Vera & Cucumber Clarifying Micellar Shampoo
What causes hair loss?
Hair loss is more common than you think and can happen to anyone. According to Dr. Eric Schweiger of Schweiger Dermatology Group in NYC, causes range from "androgenetic, or hormone-related hair loss, stress-related hair loss, also called telogen effluvium, and dandruff. Medications, vitamin deficiencies, thyroid disorders, excess styling, and autoimmune disorders can also cause hair loss and thinning."
How does hair growth shampoo work?
When it comes to a hair growth shampoo, you have two options: prescriptions or over-the-counter treatments. Prescription shampoos like ketoconazole are "anti-androgenetic," which means they prevent two hormones associated with triggering hair loss from activating—testosterone and dihydrotestosterone (DHT)—by "targeting hair growth at the site of the follicle and helping to interrupt the hormone cycle locally that causes thinning," Schweiger explains.
Does shampoo help hair growth?
Cosmetic chemist Ron Robinson of BeautyStat says that shampoos can help to improve hair growth, but not single-handedly. "Because shampoos are rinsed out shortly after they are applied, the ingredients are not staying on the scalp long enough to make a significant impact on their own." However, Schweiger points out that there are other benefits to shampoos that can assist with hair growth. in the long run. "Over-the-counter growth shampoos typically contain amino acids and antioxidants to provide the components to rebuild hair as well as reduce damage and inflammation," Schweiger adds.
What should you look for in a hair growth shampoo?
Krupa Koestline, cosmetic chemist and founder of KKT Consultants, notes that when shopping for a hair growth shampoo, some ingredients have proven benefits in hair growth stimulation: zinc, keratin, procyanidin B2, biotin, ginseng, caffeine, peppermint, arginine, amino acids like cysteine and tyrosine, vegetable proteins from wheat or soy, and tri-copper peptides. If you think over-the-counter hair loss shampoos are for you or just want to promote growth and strength, Schwieger also backs these ingredients as effective and cautions against using shampoo with parabens, sulfates, and fragrances, which can irritate hair and reduce moisture. Additionally, Robinson says that ingredients like salicylic acid that exfoliate the scalp and improve blood flow, and biotin, which may nourish the hair follicles, can also be beneficial in a hair growth shampoo.
Can natural ingredients help grow hair?
Board-certified hair loss expert and surgeon Dr. Wiliam Yates recommends gentle ingredients that don't strip the hair and preserve the integrity of the hair shaft to help prevent breakage. "My patients report improved hair growth natural ingredients like pumpkin seed extract, yucca root extract, saw palmetto, algae, horsetail, and green tea extract," says Yates. He also notes that biotin and rosemary oil show promise as natural ingredients in hair products to promote hair health and growth.
What's the difference between regular shampoo and a hair growth shampoo?
"Hair growth-promoting shampoos are specifically designed with follicle-stimulating actives and antioxidants while maintaining optimal scalp health," says Koestline. Whereas traditional shampoos are formulated for different hair types and focus more on the hair itself and not the scalp. And remember, hair growth is a slow process, and everyone is different. Dr. Nava Greenfield of Schweiger Dermatology Group recommends that you try a product out for three to four months before determining whether it is effective. "Take before and after photos since the change may be too gradual to notice," Greenfield adds.
Advertisement – Continue Reading Below