By Lambert Strether of Corrente
Bird Song of the Day
Western Chat-Tanager, Pueblo Viejo, Dominican Republic
* * *
Politics
"But what is government itself, but the greatest of all reflections on human nature?" –James Madison, Federalist 51
"They had learned nothing, and forgotten nothing." –Charles Maurice de Talleyrand-Périgord
"Here's food for thought, had Ahab time to think; but Ahab never thinks; he only feels, feels, feels" –Herman Melville, Moby Dick
Biden Administration
"Joe Biden's Best Week Ever" [New York Magazine]. "The situation has changed with astonishing speed. Biden has salvaged his domestic-policy agenda, his party's base has snapped out of its torpor, and the economy is showing signs it just might pull through. And while not all these developments are his own doing, nor do they completely extinguish the political danger he faces, they all redound to his benefit. In the span of a few weeks, Biden's presidency is back from the dead and looking something close to triumphant. The event that triggered the turnaround was the decision by five Republican Supreme Court justices to overturn Roe v. Wade. In so doing, the Court's right wing disregarded the advice of its more cautious chief justice, John Roberts, who reportedly tried in vain to steer his colleagues toward an incrementalist strategy that would avoid a backlash. Roberts's fears have been vindicated. One reason midterm elections almost always punish the president's party is that the public has an instinct to curtail the powers of those in power. The Dobbs decision inverted that calculation, creating a context in which Republicans were responsible for dramatic social change and Democrats could stand for the restoration of the status quo." • Maybe. We'll see how the Capitol Seizure, Mar-a-Lago Raid, and Ukraine — remember Ukraine? — play out along with abortion.

"Scoop: White House to circulate Afghanistan memo defending U.S. withdrawal" [Axios]. • Biden asked for my vote with his Afghanstan withdrawal. Then he squandered it with Ukraine. Ah well, nevertheless….

"First lady Dr. Jill Biden tests positive for Covid-19" [CNN]. • Well, the Bidens mask at best inconsistently. Further, I have not seen any information on ventilation in the White House, particularly HEPA filters (though again, and again, inviting Corsi and Rosenthal in to construct one of their boxes, hopefully on national television, would do wonders for good ventilation. One can only wonder why the Administration doesn't do this).

"The Untold History of the Biden Family" [The New Yorker]. • This is terribly sad, and helps explain not just Joe Biden, Junior, but Hunter. It's like A.A. on the scale of the Oresteia, over several generations, with multiple families. Well worth a read.
2022
* * *

PA: "Fetterman Reboots US Senate Campaign After Stroke-Induced Hiatus" [Bloomberg]. "Fetterman walked on stage Friday to a rousing applause from about 1,350 supporters, jam-packed in an Erie exhibition center as "Back in Black" by rock group AC/DC blared through speakers. The Pennsylvania lieutenant governor had been sidelined for three months after suffering a stroke in mid-May. Wearing his trademark black hoodie, sleeves rolled up to reveal his tattooed forearms, Fetterman spoke more softly and deliberately than he did during the primary, occasionally slurring words during a brief 12-minute address. 'I'm just so grateful and so lucky,' Fetterman said. 'Three months ago, I may not have made it. But now I'm standing right here in Erie. You are going to deliver for us, and I will deliver Pennsylvania for us, and I will clear the 51st vote in the Senate.' Fetterman's rally came just days before Monday's deadline for a candidate to drop out of the race and his party to replace him on the ballot. The event marked a public rebooting of a campaign that was largely limited to Fetterman's home — leading Oz to mock him with a daily 'basement tracker' that ended Thursday after 91 days. 'Wait, am I in Erie?' Fetterman said as he took the stage with his wife Gisele by his side. 'Or have I got 1,400 people in my basement?'"

PA: Point:

My grandfather once told me that crudité was his favorite thing to eat after a long, hard day in the steel mill pic.twitter.com/aZH9hrQ2L3

— Mike Mikus (@MikeMikusPA) August 15, 2022

PA: Counterpoint:

— John Fetterman (@JohnFetterman) August 16, 2022

One mortal lock from the PA primary: Fetterman's social media team will be able to name their own price. (I think the main function of their brilliant work has been to keep the Beltway press occupied, so they haven't gone into "pull the wings off flies" mode while Fetterman recovered. But that's not at all neglible.)

WY: "From Cheney friend to foe, Harriet Hageman takes command of Wyoming race animated by Trump" [Politics]. "'I know Wyoming. I love Wyoming. I am Wyoming,' Hageman tells audiences as she travels across her state, entering the closing days of a bitter Republican duel in one of the highest-profile congressional races in the country. 'I am going to reclaim Wyoming's lone congressional seat from that Virginian who currently holds it,' Hageman likes to say, casting aside the Cheney family's deep roots in the state and suggesting the three-term congresswoman is more at home in the Washington suburbs. These days, signs of trouble for Cheney are easy to spot here in Wyoming. Hageman holds a commanding lead in the final weekend of a primary election that stands as yet another reminder of the Republican Party's evolution in the era of Donald Trump.

A University of Wyoming poll released this week found that Cheney is trailing Hageman by 29 points. Yet one question looming over the Republican primary is how many Democrats and independents will switch parties and vote for Cheney, which even her supporters acknowledge is her only chance to stay competitive. 'If it's a big Republican vote, there aren't enough Democrats to change it, even if we all crossed over,' former Wyoming Gov. Mike Sullivan said in an interview Friday, noting that he is among the Democrats who have temporarily switched parties to support Cheney. 'Out of honor and respect for her leadership, I cast my vote her way.'" • Cheney will do fine. I'm still betting Cheney-Zelensky will be the new Joe and Mika in 2024.
2024
"Five US States Will Decide If the 2024 Election Can Be Stolen" [Bloomberg]. "Trump and his loyalists are supporting people who deny the results of the 2020 election for governor in five key states this fall, more than enough to tilt a close 2024 presidential race away from the duly elected winner. Tight races this November in Arizona, Michigan, Nevada and Wisconsin, and a possible Republican win in Pennsylvania, will determine who is in charge of making election decisions in states where the White House is won or lost. In all five of these states, Trump and his backers tried to overturn the results." • Presumably the Democrats are giving their all to win those states….

"Donald Trump's next move" [Unherd]. "But what has confused liberals for the whole of the Trump era is that almost every mortal legal arrow they have shot at him has had the opposite of its intended effect. They haven't even hobbled him. They have only ever enlarged the Trump story, creating new options for him, more dedicated supporters, and an ever-grander battlefield. Most immediately, the FBI search — the 'assault' in Trump terms — has become for Trump's family, inner circle, and MAGA-aligned candidates, a prod to get him to declare his presidential run. It is the persistent state of even the closest Trumpers to know no more about what he will or won't do or when than anyone else — 'the king of optionality,' said one aide recently, with both admiration and annoyance. Indeed, to their frustration, Trump has reverted to his long history of toying with presidential runs. Perhaps, most honestly, he has told various aides he wants to put off an announcement for as long as possible because he doesn't want to work as hard as he'd have to with an immediate declaration. (Trump's fundamental laziness has never received its rightful due as a political consideration.)" • "Anyone who is both clever and lazy is qualified for the highest leadership duties, because he possesses the mental clarity and strength of nerve necessary for difficult decisions." —Kurt Freiherr von Hammerstein-Equord

"Editorial: Why would an ex-president who doesn't read want boxes of documents at his home?" [St Louis Dispatch]. • Those documents aren't for reading. They're for trading.

WV: "'Shocked and disheartened': How coal country is reacting to Manchin's climate deal" [The Hill]. "Coal country" is not coal firms! And this tidbit: "[I]t's not clear whether deep-red West Virginia will embrace Manchin's climate deal, given that his popularity soared around the time that he told Democrats he couldn't support the $2 trillion Build Back Better Act. From the first quarter of 2021 to 2022, Manchin's approval rating shot up 17 points to 57 percent, the biggest increase among all senators over that period, according to Morning Consult. Nearly 7 in 10 West Virginia Republicans expressed support for the Democratic senator as he railed against his own party's spending package."
Republican Funhouse
Tulsi Gabbard eviscerates Kamala Harris:

Here's the exchange between Gabbard and Kamala during the 2020 Dem primary debate that many believe was a key factor in destroying Harris' campaign before one vote was cast. Tulsi exposed the huge gap between Harris' sanctimony and the reality of her workpic.twitter.com/XhBObmZBfl

— Glenn Greenwald (@ggreenwald) August 6, 2022

Quite a talent.
Democrats en Déshabillé
I have moved my standing remarks on the Democrat Party ("the Democrat Party is a rotting corpse that can't bury itself") to a separate, back-dated post, to which I will periodically add material, summarizing the addition here in a "live" Water Cooler. (Hopefully, some Bourdieu.) It turns out that defining the Democrat Party is, in fact, a hard problem. I do think the paragraph that follows is on point all the way back to 2016, if not before:

The Democrat Party is the political expression of the class power of PMC, their base (lucidly explained by Thomas Frank in Listen, Liberal!). ; if the Democrat Party did not exist, the PMC would have to invent it. . ("PMC" modulo "class expatriates," of course.) Second, all the working parts of the Party reinforce each other. Leave aside characterizing the relationships between elements of the Party (ka-ching, but not entirely) those elements comprise a network — a Flex Net? An iron octagon? — of funders, vendors, apparatchiks, electeds, NGOs, and miscellaneous mercenaries, with assets in the press and the intelligence community.

Note, of course, that the class power of the PMC both expresses and is limited by other classes; oligarchs and American gentry (see 'industrial model' of Ferguson, Jorgensen, and Jie) and the working class spring to mind. Suck up, kick down.

* * *
Trump Legacy
"30 Things Donald Trump Did as President You Might Have Missed" [Politico]. "Many Americans will remember President Donald Trump's presidency as a four-yearlong storm of tweets, rallies and on-air rants that ended in a mob riot and historic second impeachment. But there was more to the Trump presidency than attention-hogging political drama and conflict; often unnoticed, Trump and his administration actually did succeed in changing some of the ways Washington works. From imposing a ban on Chinese-made drones to rolling back rules on sexual harassment, from cracking down on robocalls to letting states legalize marijuana, Trump changed some key areas of federal policy in ways that may have lasting impact well after he's gone." • Omitted: The CARES Act actually reduced poverty, Operation Warp Speed, and no war with Russsia or China (nor Venezuela. though granted, Greedo was allowed to make a half-assed attempt).
Realignment and Legitimacy
"Hybrid Convention: What Would it Take?" [Socialist Majority]. On this year's national convention, by one who organized the last one. At the end: "My advice is always: don't let perfect be the enemy of the good. If we cannot have hybrid, that may just be. But the NPC should create a prioritization list of what is most important to have to make a fair determination. Choices aren't always easy, but leadership requires it." • The National Political Committee (NPC) is a a sixteen-person body which functions as the board of directors of DSA. For some definition of "functions"?

"The Medical Crisis that Finally Convinced Republicans in North Carolina to Expand Medicaid" [Politico]. "Most of the counties in the state that has the highest rates of uninsured residents are rural ones, according to the North Carolina Rural Center. Over time, Democrats and Republicans in those regions have come to recognize that full Medicaid expansion would provide insurance to people working in low-paying jobs such as construction and fast food, and help keep their struggling hospitals open. Last year, five rural county commissions and the Eastern Band of Cherokee Indians passed resolutions supporting Medicaid expansion. Dale Wiggins, a Republican commissioner in Kevin Corbin's district, helped garner that support. 'The fact that one of my neighbors can't afford to go to the doctor, that is asinine,' Wiggins told me last fall. 'If we can spend all this money on foreign aid, we can ensure that we have a healthy population.'" • If we could cross out the old "foreign aid" (minuscule) trope, and write in "The Blob" (ginormous), we might get somewhere…
#COVID19
• I give them Sociopath of the Day Awards. They clamor for more!
In W African Ebola epidemic, if we aligned guidance w/where most ppl were, it would've never ended

Instead, Cheikh Niang & colleagues went community by community to foster an understanding that aligned w & respected ppl's concerns & experience. It's why Ebola isn't endemic now https://t.co/HaDLKFDVh4

— Ranu Dhillon (@RanuDhillon) August 16, 2022
Here's an interview with Cheikh Niang. Clearly, Sierra Leone and Mali are serious countries, unlike our own.
• Ho hum, another conference, another superspreading event:
In case anyone's curious, the 'I got covid at Black Hat/Defcon' tweets started today 😢

It's like watching a weather system roll in around the last day of each conference this year. IMO two-way masking is working but mask drops are where people are getting caught.

— Violet Blue® (@violetblue) August 15, 2022
• Do they all use the same PR firm? Are they bots?
They have all tested positive.
They are all grateful.
🤡 pic.twitter.com/pJb1SfvMaU

— Dr. Eli David (@DrEliDavid) August 15, 2022
(Notice the various synonyms for "mild." I wonder when CVS is going to come out with a simple, at-home brain damage test. After repeated infections, there'll be a market!
• At last, a constructive suggestion:
I think all of monkeypox should be renamed Walensky.

"These Walensky sores on my arm really itch."

"If you test positive for Walensky stay away from me."

"Did you know you can keep safe from Walensky by wearing a mask?"

"We're closed for business due to Walensky."

It fits!

— Democracy Needs C19 Eradication 🌻☮️😷 VaccinePlus (@Annalisa840917) August 15, 2022
* * *
• Maskstravaganza:
I'm genuinely stunned at the results of this public poll (39% identify as Democrats, 40% Republican, the rest independent)

Public support for vax mandate for teachers (62% support) & students (52%), & for school mask mandates (60%), is MUCH higher than I would have predicted https://t.co/l7WSrKEM99

— Prof. Gavin Yamey MD MPH (@GYamey) August 14, 2022
Readers will have noted I support universal mask mandates, but oppose vaccine mandates (persuade people, say I. Lead. Do your jobs).
• Maskstravaganza:
Ran into 2 neighbors this week who have Covid. Both were at 5 days & planning returns the next day. I said "oh? I'm glad you're testing negative." BOTH said "CDC says I don't need to test, just mask." Both are out in the world today, untested & feeling less than fully recovered.

— Christina O'Brien 💛🐝 (@carhartobrien) August 13, 2022
Joe, Rochelle, good job.
• CR boxes in the wild:
A while back I went to a dentist that I was very pleased with. (On my visit everyone was wearing a respirator.) I was intrigued to see a CR box on the ceiling! This is how it was done!

Ceiling mounted Corsi-Rosenthal Box https://t.co/PuFFVHEfh8 via @YouTube

— #MasksInSchools Dr Noor Bari (@NjbBari3) August 14, 2022
* * *
If you missed it, here's a post on my queasiness with CDC numbers, especially case count, which I (still) consider most important, despite what Walensky's psychos at CDC who invented "community levels" think. But these are the numbers we have.
* * *
Case Count
Case count for the United States: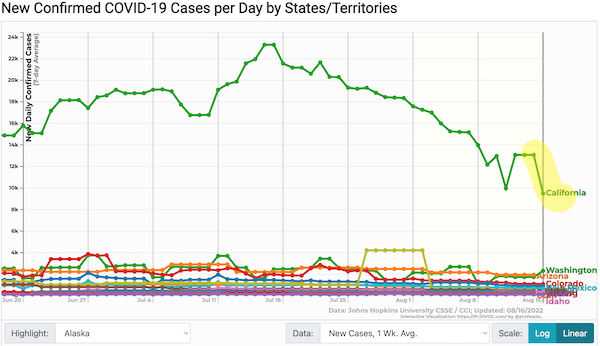 Big story is California.
Cases are undercounted, one source saying by a factor of six, Gottlieb thinking we only pick up one in seven or eight.) Hence, I take the case count and multiply it by six to approximate the real level of cases, and draw the DNC-blue "Biden Line" at that point. The previous count was ~ 102,600. Today, it's ~106,500 and 106,500 * 6 = a Biden line at 639,000 per day. That's rather a lot of cases per day, when you think about it. (Remember these data points are weekly averages, so daily fluctuations are smoothed out.) The black "Fauci Line" is a counter to triumphalism, since it compares current levels to past crises. At least we have confirmation that the extraordinary mass of case anecdotes we've seen have a basis in reality. However, I'm not seeing the volume of anecdotes I did on the Twitter. What are readers experiencing?
Regional case count for four weeks: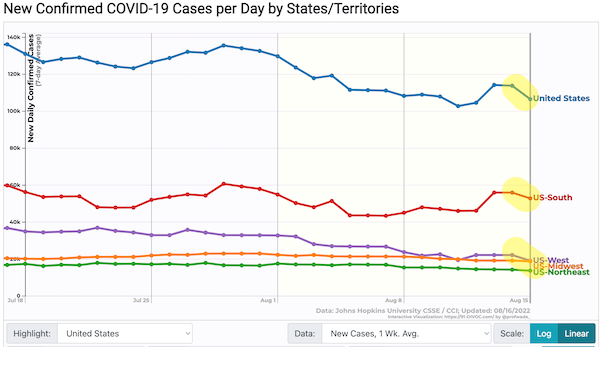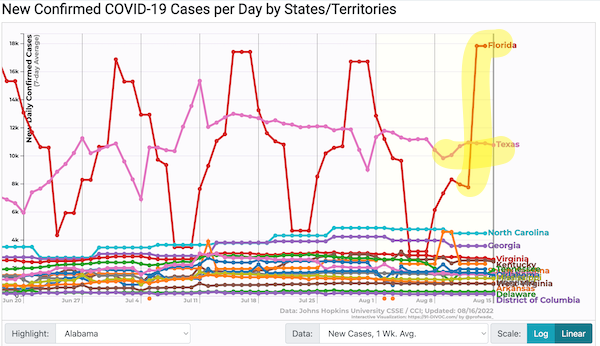 The South (minus Texas and Florida):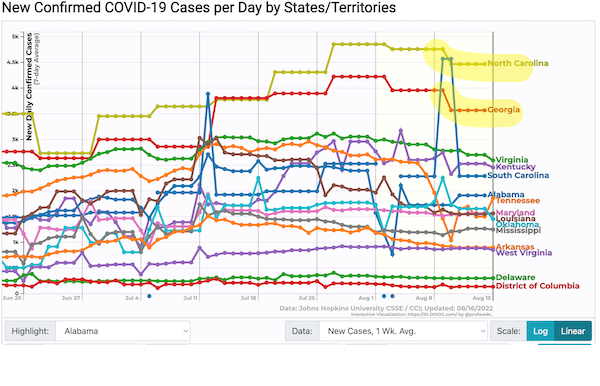 Encouraging on Georgia and North Carolina. Apparently, South Carolina's cases were found in a drawer after all.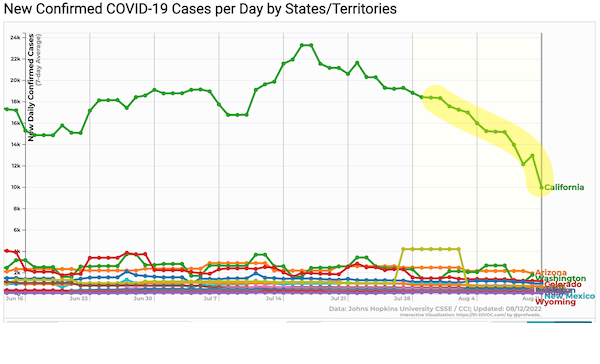 A
Positivity
From the Walgreen's test positivity tracker, August 14: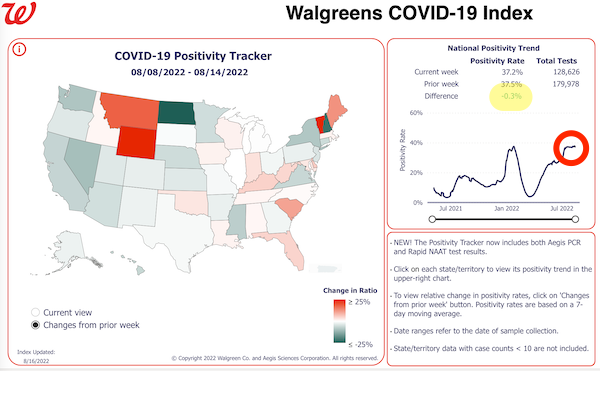 -0.3%.
Transmission
NOTE: I shall most certainly not be using the CDC's new "Community Level" metric. Because CDC has combined a leading indicator (cases) with a lagging one (hospitalization) their new metric is a poor warning sign of a surge, and a poor way to assess personal risk. In addition, Covid is a disease you don't want to get. Even if you are not hospitalized, you can suffer from Long Covid, vascular issues, and neurological issues. For these reasons, case counts — known to be underestimated, due to home test kits — deserve to stand alone as a number to be tracked, no matter how much the political operatives in CDC leadership would like to obfuscate it. That the "green map" (which Topol calls a "capitulation" and a "deception") is still up and being taken seriously verges on the criminal. Use the community transmission immediately below.
• "'Living with Covid' should be countered by containing the virus once and for all" [Eric Topol, Guardian]. No Swiss cheese strategy, the usual Idée vaxe. but nevertheless, give some credit:
With the revised guidelines, the CDC continue to push a contrived metric which they call "community level" to "know your risk for serious illness". As defined by the CDC website, this "is determined by the higher of the new admissions and inpatient beds metrics, based on the current level of new cases per 100,000 population in the past 7 days". This is not appropriate guidance since Americans would be rightfully concerned about getting infected, not stressing hospital resources in their community.
Readers will note we have CDC's bullshit on "community levels" as part of our boilerplate. More:
It is a deceptive way for CDC to present a rose-colored-glasses semblance of lower risk. That, too, is , especially including the vulnerable, that it purports to want to protect. No less, this is further exacerbating the toll of long Covid, a condition that millions of Americans are suffering from, due to the virus's massive, unbridled spread throughout the pandemic.
A simpler way to express the idea buried in "unnecessarily promoting spread of Covid to others" is "They really do want to kill us." Baby steps for Topol!
Here is CDC's interactive map by county set to community transmission. (This is the map CDC wants only hospitals to look at, not you.)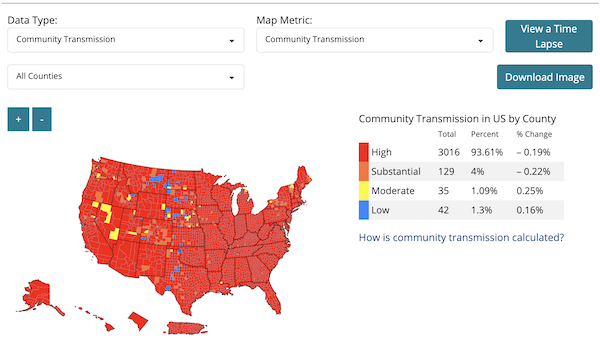 Some blue in flyover. Some orange in Maine, yellow in Nevada. Improving!
NOT UPDATED Rapid Riser data, by county (CDC), August 10: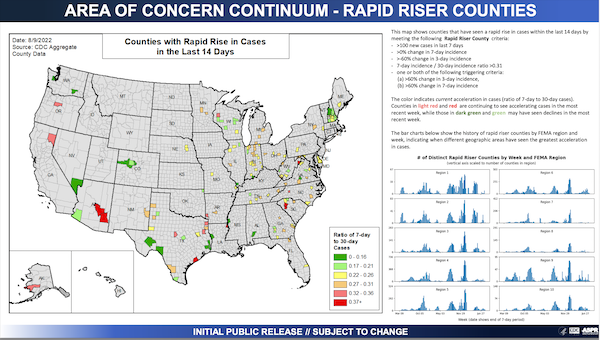 I'm almost ready to say "All is quiet." Boy howdy, does that feel weird. I suppose that if cases are indeed level, it's likely there would be few rapid risers.
Previous Rapid Riser data: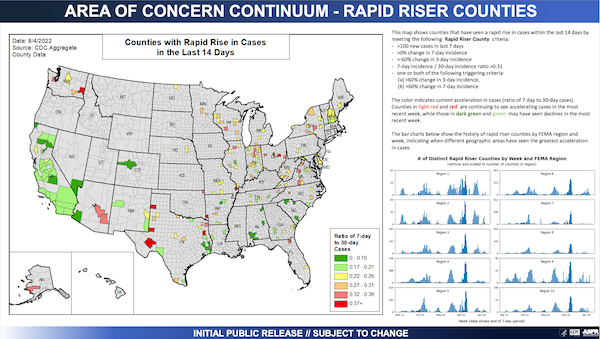 NOT UPDATED Hospitalization data, by state (CDC), August 10: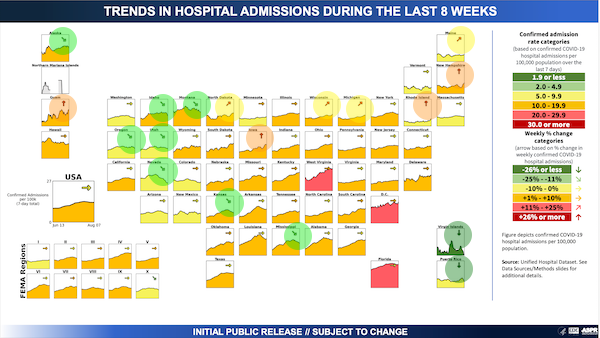 Volatile. What's up with the Northeast?
Lambert here: When the cut the frequency of these reports, they said the reports would come out Wednesday and Friday. Ah well. Enjoy performing your weekend personal risk assessments without current data.
Variants
Lambert here: It's beyond frustrating how slow the variant data is. I looked for more charts: California doesn't to a BA.4/BA.5 breakdown. New York does but it, too, is on a molasses-like two-week cycle. Does nobody in the public health establishment get a promotion for tracking variants? Are there no grants? Is there a single lab that does this work, and everybody gets the results from them? Additional sources from readers welcome [grinds teeth, bangs head on desk].
NOT UPDATED Variant data, national (Walgreens), July 30: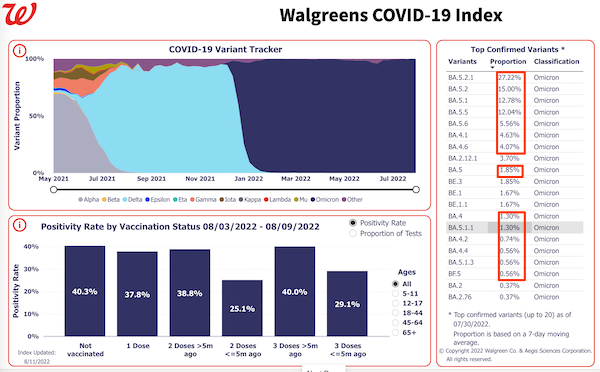 NOT UPDATED Variant data, national (CDC), July 23 (Nowcast off):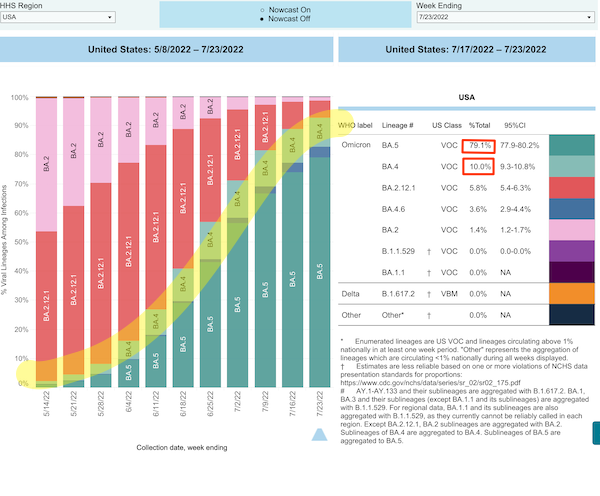 BA.5 moving along nicely. (Same data, but a layout I like better, and I wish CDC would stop changing the layout randomly.)
Wastewater
Wastewater data (CDC), August 10: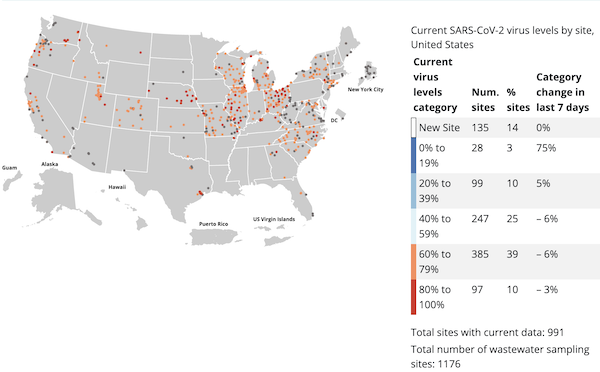 For grins, August 8: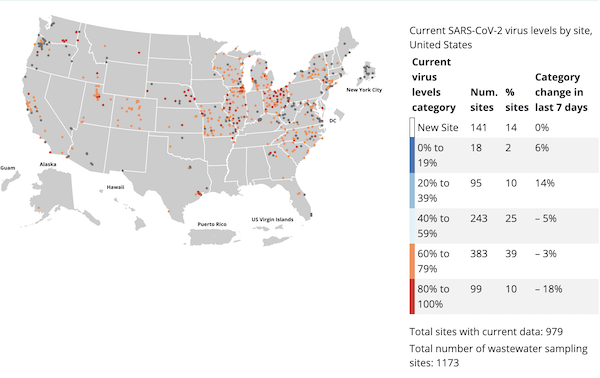 Lambert: I added grey. Grey, not on the legend at bottom right, is "No recent data." How is there no recent data for New York City, a major international hub and already the epicenter of at least one surge? How is there none for upstate New York, which only recently was full of rapid-riser counties? The same with West Virginia, Michigan, and Oregon. If I were the paranoid sort, I'd theorize that CDC moved in on the only accurate data source we've got, in order to corrupt and destroy it.
Deaths
Death rate (Our World in Data):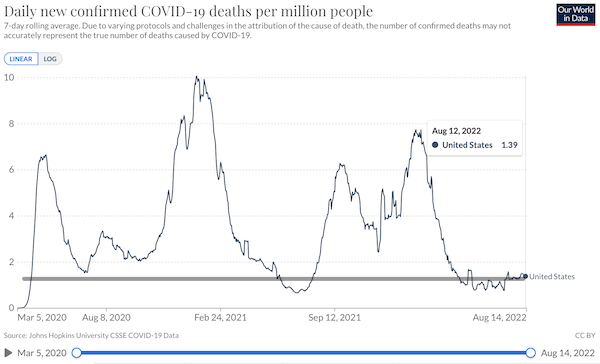 Lambert here: If in fact the drop in cases is real, as CDC seems to believe, we should start seeing deaths, which lag, drop around September 1.
Total: 1,062,770 – 1,061,346 = 1424 (365 * 1424 = 519,760; today's LivingWith™ number. Fluctuates quite a bit, but even the low numbers are bad). I have added an anti-triumphalist black Fauci Line. It's nice that for deaths I have a simple, daily chart that just keeps chugging along, unlike everything else CDC and the White House are screwing up or letting go dark, good job.
• Alert reader Deschain asks: "Is it just me or do COVID deaths look like a cup-and-handle formation?" I don't know. Readers?
Stats Watch
Housing: "United States Housing Starts" [Trading Economics]. "Housing starts in the United States tumbled 9.6 percent month-over-month to an annualized rate of 1.446 million units in July of 2022, the lowest since February of 2021 and well below market expectations of 1.54 million. The housing sector has been cooling down amid soaring prices of materials and rising mortgage rates." • Well, that should help with the homeless situation.
Manufacturing: "United States Industrial Production" [Trading Economics]. "Industrial Production in the United States increased 3.9 percent year-on-year in July of 2022, the smallest annual gain since January, and following a downwardly revised 4 percent rise in June. Manufacturing production rose 3.2 percent, mining 7.9 percent and utilities 2.2 percent."
Manufacturing: "United States Capacity Utilization" [Trading Economics]. "Capacity utilization in the United States increased 0.4 percentage points to 80.3% in July of 2022, slightly above forecasts of 80.1% and 0.7 percentage points above its long-run (1972–2021) average. Capacity utilization for manufacturing increased 0.5 percentage points to 79.8%, 1.6 percentage points above its long-run average."
* * *
The Bezzle: "Andreessen Horowitz Backs WeWork Co-Founder Adam Neumann's Real-Estate Startup Flow" [Wall Street Journal]. • Commentary:
"The name of the company is Flow. We are a capital hungry residential rental real estate company with the support of Silicon Valley's finest VCs. We have $0 revenue & are already raising our next round in stealth at a $5b valuation. Can I count you in as lead for $1b, Masa?" pic.twitter.com/OkrEWkBmbL

— Kenneth Dredd (@KennethDredd) August 15, 2022
* * *
Today's Fear & Greed Index: 56 Greed (previous close: 54 Neutral) [CNN]. One week ago: 49 (Neutral). (0 is Extreme Fear; 100 is Extreme Greed). Last updated Aug 16 at 12:01 PM EDT. Mr. Market crusing on Dark Brandon? Apparently so!
Rapture Index: Closes unchanged [Rapture Ready]. Record High, October 10, 2016: 189. Current: 188. (Remember that bringing on the Rapture is good.) I've been waiting for the Rapture Index to hit the all time high again. But it just can't cross the important psychological barrier of 190. Instead, it falls back.
Poetry Nook
"This be the curse: Philip Larkin's big problem" [The Spectator]. "I've been hearing of Larkin's penis at intervals for much of my adult life. The first time was 30 years ago; the most recent this week. In all cases, my informants had it from his first biographer, Andrew Motion, who had been told by Larkin's tailor that the poet's penis was abnormally large, obliging him to alter the cut of his trouser legs. As a friend of Larkin's, Motion was also able to confirm this rumour from an adjacent stall of a men's urinal… [I propose] that this piece of information is so acutely relevant to Larkin's life and work that it should be enshrined in Coles Notes, handed out to secondary school children as part of their poetry pack. Perhaps a statue in Poets' Corner. Because once the sniggering stopped, students would find it a useful resource in more than one way. Firstly, it brings light into corners of the poetry that are otherwise obscure. Secondly, it challenges the harmful and false belief, much promoted in online pornography, that a very large penis is what makes a boy popular with the girls. For a lot of men, this accident of genetics is a life-ruining affliction. Larkin fell into this category." • (!!)
The Gallery
The style reminds me of a New Yorker cartoon, back when the New Yorker wasn't a grim tour of the PMC hive mind:
Stuart Davis, Place Pasdeloup No. 2, 1929 #museumarchive #stuartdavis https://t.co/8NuvwXud2K pic.twitter.com/36tNQOfUY6

— Stuart Davis (@StuartDavisArt) August 13, 2022
(To be fair, the Biden article above is very good. Every so often….)
The Conservatory
A self-indulgent return to my roots:
(The songwriter, Jesse Fuller.)
Zeitgeist Watch
"About one-in-five teens visit or use YouTube 'almost constantly'" [Pew Research]. • Handy chart: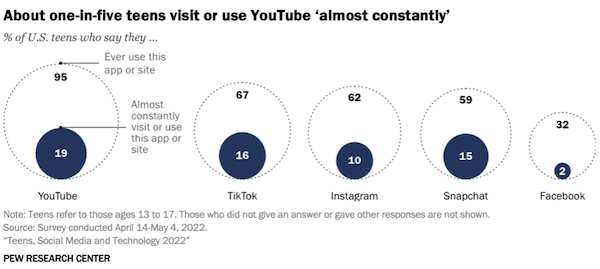 "My Mom's on FaceBook."
Class Warfare
"Why Black Marxism, Why Now?" [Boston Review]. "[B]ecause neither Marx nor Engels considered the colonies and their plantations central to modern capitalist processes, class struggles within the slave regime or peasant rebellions within the colonial order were ignored or dismissed as underdeveloped or peripheral—especially since they looked nothing like the secular radical humanism of 1848 or 1789. Cedric's point is that Marx and Engels missed the significance of revolt in the rest of the world, specifically by non-Western peoples who made up the vast majority of the world's unfree and nonindustrial labor force. Unfree laborers in Africa, the Americas, Asia, and the islands of the sea were producing the lion's share of surplus value for a world system of racial capitalism, but the ideological source of their revolts was not the mode of production. Africans kidnapped and drawn into this system were ripped from 'superstructures' with radically different beliefs, moralities, cosmologies, metaphysics, and intellectual traditions. Robinson observes." • A fair, very fair critique. Interesting!
News of the Wired
"Finding the medieval mind" [Times Literary Supplement]. The deck: "The case for a socially embedded self." "The medieval self, [Barbara Newman] suggests, was inextricable from its connection to others: in this period "the essence of personhood is the capacity to be permeated by other selves, other persons, without being fractured by them". At a time when our own physical porousness is evident – a deadly virus has shown just how vulnerable our insides are to everyone else's, and mitigation efforts have made us feel more solitary and atomized than ever before – a book on how people of the past thought about themselves in relation to others might be of particular interest." • Hmm.
"How I Hacked my Car" [Programming with Style]. Some light reading for your teenager. Best sentence, perhaps: "Turns out the encryption key in that script is the first AES 128bit CBC example key listed in the NIST document SP800-38A." "No, it can't be."• But it is, it is. This is how we write software.
When your teenager's done with the car, they can do this:
First, we've discovered that about a quarter of all the internet connection in or out of the house were ad related. In a few hours, that's about 10,000 out of 40,000 processed.

— Simon McGarr (@Tupp_Ed) August 11, 2022
* * *
Contact information for plants: Readers, feel free to contact me at lambert [UNDERSCORE] strether [DOT] corrente [AT] yahoo [DOT] com, to (a) find out how to send me a check if you are allergic to PayPal and (b) to find out how to send me images of plants. Vegetables are fine! Fungi and coral are deemed to be honorary plants! If you want your handle to appear as a credit, please place it at the start of your mail in parentheses: (thus). Otherwise, I will anonymize by using your initials. See the previous Water Cooler (with plant) here. From j. appleseed: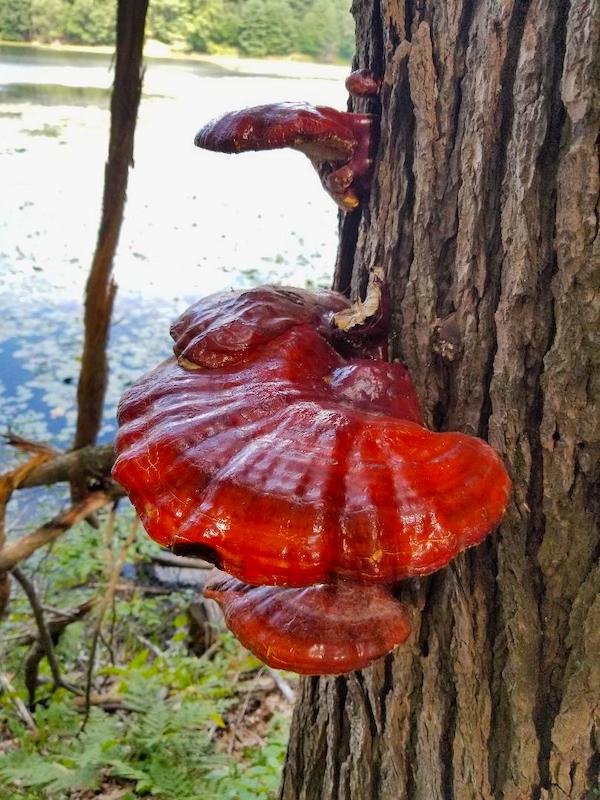 j. appleseed writes: "Just about to head up to your neck of the woods on holiday (Round Pond near Damariscotta), but I spotted these gorgeous bracket fungi above Cranberry Pond in Sunderland, Mass. Possibly Hemlock Varnish Shelf aka Hemlock Reishi, genus Ganoderma? Perhaps some knowledgeable reader can confirm…" The background is a little blown out, but the composition saves it. Readers?
* * *
Readers: Water Cooler is a standalone entity not covered by the annual NC fundraiser. So if you see a link you especially like, or an item you wouldn't see anywhere else, please do not hesitate to express your appreciation in tangible form. Remember, a tip jar is for tipping! Regular positive feedback both makes me feel good and lets me know I'm on the right track with coverage. When I get no donations for five or ten days I get worried. More tangibly, a constant trickle of donations helps me with expenses, and I factor in that trickle when setting fundraising goals:
Here is the screen that will appear, which I have helpfully annotated: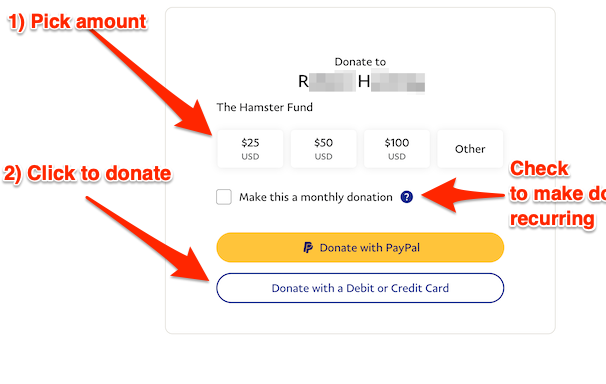 If you hate PayPal, you can email me at lambert [UNDERSCORE] strether [DOT] corrente [AT] yahoo [DOT] com, and I will give you directions on how to send a check. Thank you!