What Makes A Top-Notch Online Training Consultant
To achieve their business goals, many organizations are constantly looking for ways to improve their employees' performance. This usually involves conducting a training needs assessment that identifies knowledge gaps and then designing and implementing an online training course to cover those gaps. Easy work, right? Not so much. That's why companies opt to hire training consultants to help them boost their efficiency levels. But what is a training consultant and what do they do?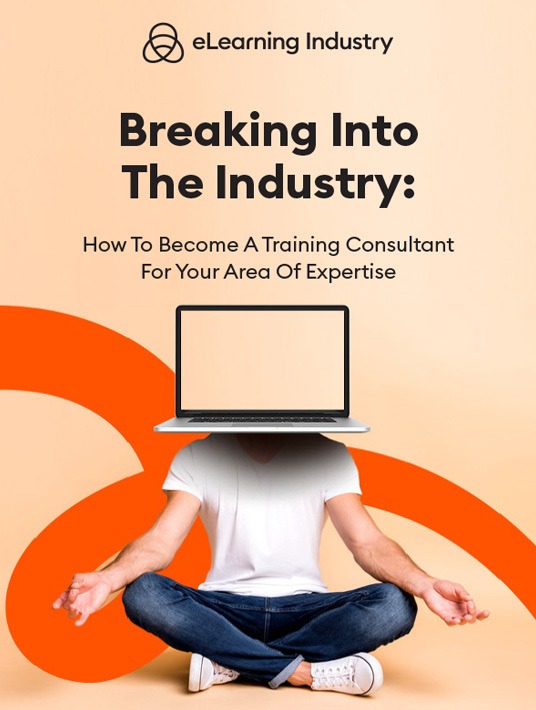 eBook Release
Breaking Into The Industry: How To Become A Training Consultant For Your Area Of Expertise
Discover how to break into the eLearning industry and find the right training consultancy niche for your talents.
What Is A Training Consultant?
A training consultant is a professional who collaborates with a business to design, optimize, and implement a training program that is tailored to its specific training needs. They are usually self-employed and therefore work on a contractor basis. Their responsibilities include evaluating current training programs and taking proper measures to align them with company goals. They further facilitate learning opportunities by creating training material and courses.
The main responsibility of a training coach is to offer learning solutions focused on developing employee skills and improving training content delivery. They achieve that by performing skills gaps analyses and evaluating existing training programs to identify company needs. Then, they either develop new programs designed to achieve learning and business objectives or improve current ones. This usually involves modifying or creating new material, such as graphics, visual aids, and audio content to increase employee engagement. Training consultants are also responsible for providing organizations with measurement and feedback tools to assess the success of the training program and its alignment with company objectives.
5 Qualifications Of A Top-Notch Training Coach
When it comes to employee development, it's difficult to ignore the benefits a training consultant can bring to any business. However, training consulting is a highly competitive field, and you might be wondering what makes you stand out among the rest. Our experience has led us to believe that the best training consultants share the following 5 qualities.
1. In-Depth Knowledge
Businesses seek training consultants with a comprehensive understanding of the domain they will be teaching. Whether it is sales, safety, or soft skills training, you need to be well-acquainted with the subject. You must also possess knowledge of various training methods and techniques, such as adult learning, blended learning, etc. Make sure you always stay on top of emerging trends by doing your research, networking, training, and applying theory to practice. This way, you'll remain current and expand your client base.
2. Organizational Skills
There is a lot that goes into addressing a company's training needs and helping employees improve their skillset and knowledge base. From assessing gaps to implementing a program and evaluating its success, training consultants must handle an array of responsibilities. Also, as self-employed professionals, they often have to simultaneously work with several clients. Therefore, it's crucial that they possess excellent organizational skills which allow them to accommodate a company's requirements without losing sight of their vision or compromising the quality of their work.
3. Communication Skills
Being a great communicator is a given for a top-notch training consultant. If you want to enact meaningful change in an organization, you need to be able to convey your message accurately and effectively. This will bring in the best results by keeping learners engaged and motivated to perform their best. A good communicator also knows when to step back and listen. Good listening skills promote the open exchange of information and allow you to react quickly and streamline the problem-solving process.
4. Creative Thinking
Content is the determining factor of your training program's success. If it is interesting and interactive, employees are more engaged and learn faster. However, even if the subject matter is a rather dry one, it's your responsibility to use your creativity and innovativeness to make it exciting. You can do that by trading the monotonous PowerPoint presentation for multimedia, such as videos, audio content, and infographics. You can even boost content delivery using interactive or immersive games.
5. Adaptability
As we mentioned earlier, training consultants work with many different clients on a daily basis. But the best of them know that not all training situations can be handled the same way because every business has its own requirements. Therefore, instead of opting for a one-size-fits-all approach, they make sure to work innovatively and look at each company's training needs with fresh eyes. This modus operandi helps them seamlessly adapt to various company cultures and offer unique solutions that cater to unique training needs.
Conclusion
Training consultants are precious collaborators for any organization that wishes to boost employee performance and increase efficiency. With their help, businesses can identify skills gaps, develop instructional material, and create training courses. However, there are a few qualities that a training coach must possess to bring in the best results. These qualities can be gained with experience, as long as you strive to improve and expand your skillset.
How do you embark on a new eLearning career path? Download the eBook Breaking Into The Industry: How To Become A Training Consultant For Your Area Of Expertise.