Samsung today announced new Global Goals watch bands for its Galaxy smartwatches. The new bands are made from a white colored silicone material with green, blue, yellow and red colors accents around the watch dial and adjustment holes.
These are inspired by the United Nations Global Goals programme and Samsung pledges to donate 5% of every purchase to the UN's Development Programme. In addition, Samsung introduced two new Global Goals watch faces.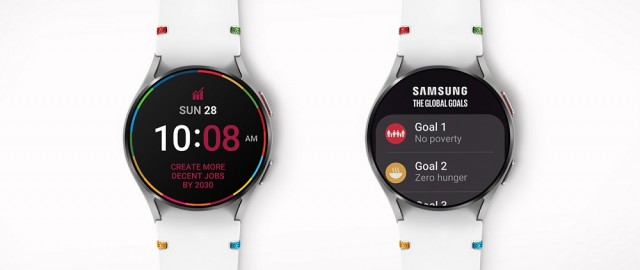 Samsung Global Goals watch faces
The new Global Goals bands are compatible with the Samsung Galaxy Watch4, Watch4 Classic, Watch5 and Watch5 Pro models. Retail is set at $49.99/ €49.90/£44. The bands will be available across 14 markets at launch: Belgium, Denmark, Finland, France, Germany, Italy, the Netherlands, Norway, Portugal, South Korea, Spain, Sweden, the United States and the United Kingdom.