The Ultimate Employee Onboarding Playbook
What does it take to create a high-impact onboarding program that welcomes your new team members and prepares them for their first day on the job? This employee onboarding playbook by 360Learning has all the information you need to launch a collaborative learning program that aligns with your business objectives and helps you retain your new top talent.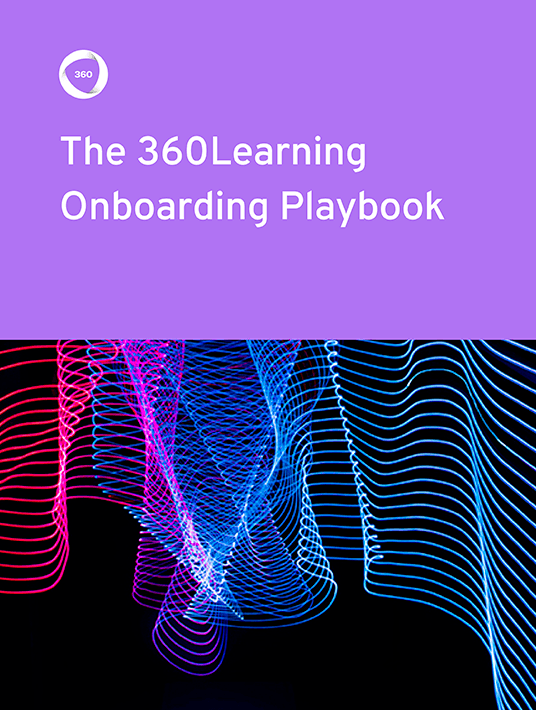 eBook Release
The 360Learning Onboarding Playbook
Learn why great onboarding makes such a difference, how to structure onboarding using collaborative learning, and more.
Why Employee Onboarding Is A Must For Modern Organizations
Historically speaking, employee orientations have been the norm. A new hire clocked in, and the next day or two was spent reading lengthy manuals and watching those ever-popular training videos (which were quite often dated). However, these traditional orientations were typically a one-off event, and employees were left to their own devices for the rest of their journey, except for the occasional certification or compliance training. Today, new staffers expect a more holistic training experience that preps them for challenges and keeps them in the corporate loop. For this reason, many organizations are transitioning to employee onboarding strategies that give new team members a complete overview of company policies, task protocols, and beyond. But it doesn't end with rules and regulations. Employees have all the support they require to get the job done, build self-confidence, and continually broaden their skills in the long run.
About The eBook
How does collaborative learning fit into the big picture? What are the secret ingredients for an amazing onboarding experience? How can you prove that your onboarding programs are worth the ROI? Here's a sneak preview of what you'll find in this guide by 360Learning:
Why Great Onboarding Makes Such a Difference
Collaborative Learning and the Onboarding Process
Demonstrate Business Impact Through Metrics
How To Get Your Copy
Download the eBook The 360Learning Onboarding Playbook to find out why onboarding is so essential and how to leverage collaborative learning in your L&D programs.